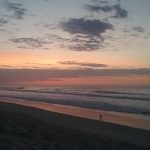 Welcome to the blog.
Hi, my name is Carol Ann Ross, and I am an author.
I live on beautiful Topsail Island on the North Carolina Coast. Life is good when you get to do what you love, and I love writing about the people who surround me and this island where I spend most of my time.
Through my writing, you will have the opportunity to explore some of the magic of this amazing place--and it is amazing. As a child it was my "never, never land"--as an adult it still is.
Here on the blog, you will find a variety of topics from beach posts, to writing tips and everything in between.  I invite you to follow along on this fascinating journey of a self-published author
Posted the mini commercial for THE DAYS OF HAIRAWN MUHLY – just click on copy of The Days of Hairawn Muhly and the ad will run. Please let me know what you think – I need all the feedback I can get.For those of you who are authors – this is such a great way to get the word out – and it's free. So many thanks to my friend DSM – she is the brains behind my madness.
Read More